This time around we finally got the students wishes through and the previous course where I had ~3 days had now been expanded to 7 days.
So the Scrum talk I did back in 2014 lead to the 3 day teaching in 2017 and 2018 where the wishes for more time were really getting load and in 2018 the courses were changed and Agile & Lean replaced the Agile Project Management course.
I loved getting more time to get through the material and putting more focus on games, teamwork & freedom.
This time around I didn't get Ingjaldsstofa (room HT-101) and I missed it :'( it was much more cosy than the big space we got this time. It was a bit cold and for the last two times we had to move to other older rooms that I liked more since they were smaller and somewhat more intimate.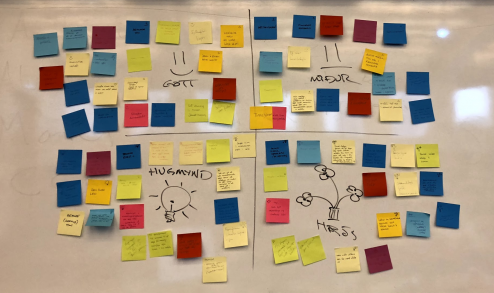 On the retro (see image at top) we got a lot of great points that I'll take into the next iteration of this course:
More focus on the games (and more game)
Utilize more tools (i.e. zoom.us for a remote session, kahoot.it for follow up (rather than quizes), online chat tool like slack?)
Too much time went into the personal assignment…I'll change that
Then students were really pleased at the retro and then when the results from the schools survey were in we can clearly see that they were pleased there too with the course giving it 8.75 that was well above the average.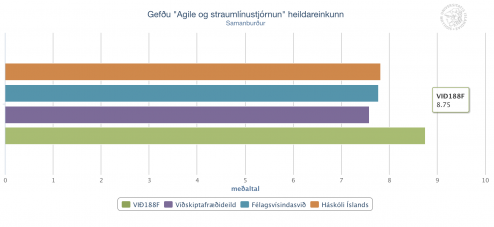 The I looked a little deeper into the numbers and the scores were always above average except for the workload where the course was way below.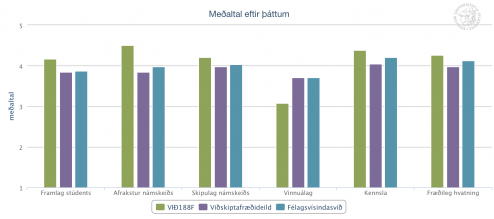 I don't know if that is a really bad thing…but I do want to make a lot of improvements on the assignments so hopefully I can get that part up…but I'm not sure if I do want to exceed the average there 😉
Thankful as always, it's a lot of fun to share and meet curious minds willing to learn =)