For 3 Monday mornings in February I was a teaching at the University of Iceland where the focus was on Agile in managing projects (Verkefnastjórnun II (2017)).
The slides were online and created with slides.com and linked to various older slides and material I already had. I also just added the material before each class but the upfront plan was:
Day 1 – Agile, Kanban & Scrum…and teams
Day 2 – Product Owner, requirements and release thinking
Day 3 – Improvements, retrospectives and the future
I think it went well, I really liked a lot of the feedback (points from the retro are below). But there were two times that I really remembered:
Empty classroom


Here is a picture I took when the classroom was completely empty with the exception of the teacher who will be leading this course next year. There was a work assignment going on that ended with everyone going outside the room…I really liked the fact that I was teaching and all the students had just left the room =)
Smiling faces
One of the activities I did was draw faces where you draw numerous smily faces. When they were drawing and I was looking over it was so fun to see how many were smiling at their papers…down at their smily faces…I didn't feel like taking individual photos of people but really enjoyed seeing the smiles facing their drawings.
Retrospective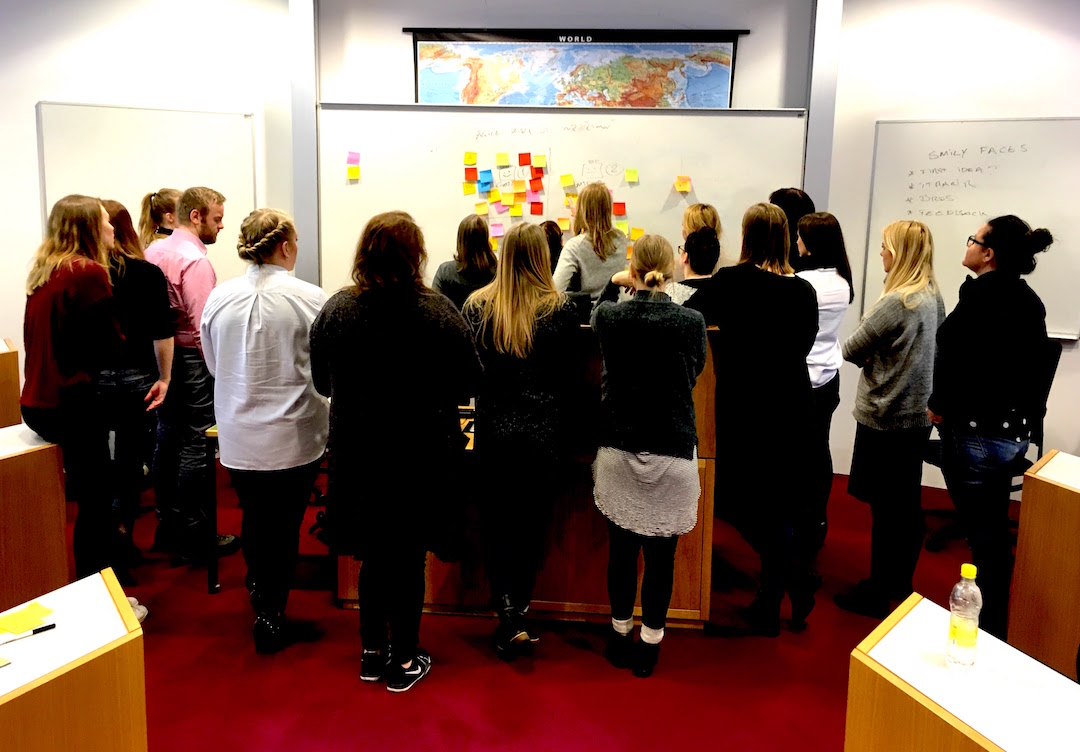 At the last day we did a retrospective on how they felt about these three days. I did the Learning Matrix which is my go to retro activity. There were some great feedback that I got…and I must admit that it was a bit strange to have a retro as a facilitator and getting so much feedback directed straight to me…but they were all good remarks, thx everyone =)
Still a few points I want to keep here for the future:
More workouts that are based on real examples
Easier access to slides
Connect the material beyond software delvelopment
Glossary of terms for those who are not into the lingo
Connect with the other parts of the course
I had fun and from all the other good comments I think they liked it…I guess the remark "More teachers should be like this" is something that tells me that I was doing something right 😉