Another weekend was coming up. I knew in the back of my mind that there were a whole lot of pesky/happy tasks that we needed to complete but my biggest problem was where to start and well if I don´t know that I kinda don't.. start that is. I decided to tackle the problem by using the fabulous Scramban board, not by using the predefined task stickers but with my own post-it´s. That way I knew exactly what I needed to do and wouldn´t forget a thing.
It was kinda good feeling to kick off the weekend with a clean slate (board). We are a family of three and my husband/birthday boy would be working the whole weekend. It would be down to me and my 7 year old boy to work the list. We had a birthday party to plan, house to clean and all kind of other unrelated tasks.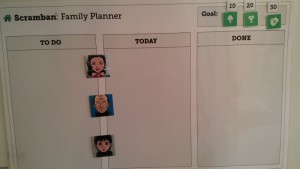 First we wrote down all the tasks we needed to complete. We tried to make the tasks as small as possible and instead of just folding laundry we made one for folding socks so both of us could participate and work together.
The 'funny' thing about list of tasks it grew during the weekend. We started off with 16 tasks. Then it was 19 and ended in 25. We had to constantly prioritized, there was the birthday party on Saturday so it made sense to have tasks related to that as a first priority.
The best thing about the list of tasks though, the issues constantly moved over to the 'done' column, which is an awesome psychological boozt. I found it really helpful to have all the tasks in one place, even put an appointment in there as well. We did not complete all the tasks but we did manage 20 which was better than the 16 on the original list. We decided not to do 2 tasks (bought icecream for dessert instead of baking a cake and decided one bookmarket was all we needed). The 3 tasks we didn´t complete were the ones lowest on the list of priority, something we could easily do next weekend.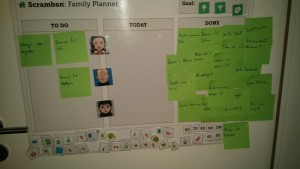 The prize for us was actually on the list of tasks as well. Going wild on the bookmarket 🙂